10 Heavyweight Prospects the UFC Should Look at in 2018
With the heavyweight division aging and a distinct lack of young prospects in the UFC, they decided to bring in a few talented guys that fit the bill in the year of 2017. The UFC brought in Marcelo Golm (1-0 UFC), Arjan Bhullar (1-0 UFC), Tai Tuivasa (1-0) UFC, Junior Albini (1-1 UFC), and Justin Willis (2-0 UFC) who all, with still little experience in the UFC, seem to be promising up and comers as we start into 2018. To add to the depth, here are ten heavyweights the UFC should bring in for 2018 in no particular order:

Ricardo "Alemao" Prasel
27 | 6'7″ | Strikers House | Guarapuava, Parana, Brazil | 9-0 | 100% Finish rate |
8 Submissions (3 RNC's. 2 Heel Hook's, Toe Hold, Triangle, Guillotine) | 1 TKO
Combined opponent's record- 21-36-1 | Best win- Edison Lopes (8-2)
Prasel is basically a one-dimensional grappler, although he's a very good one, showing a strong sub game in his fights. And although he does have some kickboxing he still will waste no time getting his fights to the mat. Being a former competitor in strongman, his strength carries over to MMA: over powering in the clinch, where he is able to get his takedowns. Prasel, at times, will even pull guard, showing he has the confidence off of his back, and with his submission attack and he should be, as no one has had an answer to him yet. I know UFC has contacted Prasel not too long ago so I'm sure we will see Prasel in the UFC soon.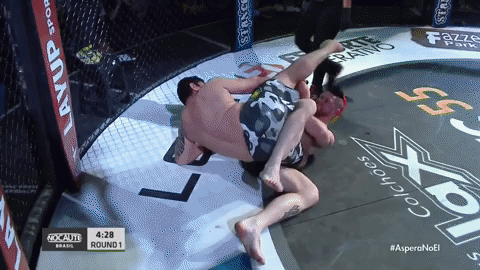 Photo Credit: FNG
Sergey Pavlovich
25 | 6'3″ | Eagles MMA | Moscow Russia | 12-0 | 9 Finishes |
9 KO/TKO's | Combined opponents record- 116-54-4 | Best win- Mikhail Mokhnatkin (9-1)
Pavlovich has scary power in both his hands, andd when he throws it is to cripple his opponent. Pavlovich is mainly a counter striker and possesses a deadly striking arsenal. Pavlovich has shown good kickboxing and perfect takedown defense, with solid cardio, with the three fights he hasn't finished going to a decision. The great thing is is that Pavlovich can maintain that pace and is just as dangerous in all three rounds. Pavlovich is exactly what the UFC needs and once his FNG contract is over he is a must pick-up for the division.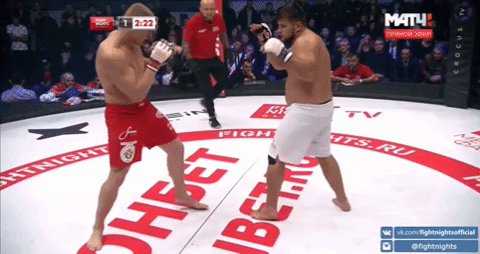 Adam "Kung Fu Panda" Dyczka
26 | 6'3″ | Speedy Gym | Timmins , Ontario, Canada | 7-0 | 100% Finish rate |
7 KO/TKO's | Combined opponents record- 22-13 | Best win- Bakary Sakho (1-0)
"Kung Fu Panda" is a proficient striker with solid boxing skills. He favors his jab and follows up with hooks while adding in some hard leg kicks as well. Dyczka doesn't look like an athlete, with the muscle-mass a lot of guys have, but he's proven he can keep a solid pace for three rounds and has the ability to end it in the first. He hasn't really been on the mat through his first seven pro bouts. Standing at 6'3, the big man knows how to use his size to stop regional-level fighters from taking him down. Dyzka will still need to improve on his head movement, just as he's already been improving in all areas. Being the TKO heavyweight champion, Adam should be picked up as soon as he eligible.


Photo Credit- Tapology.com
30 | 6'4″ | AKA Thailand | Shahriar, Tehran, Iran  | 7-1 |5 Finishes |
5 KO/TKO's | Combined opponents record- 90-39 | Best win- Heath Herring (28-14)
Aliakbari is a very accomplished Greco-Roman Olympic wrestler, and he's transitioned it well to MMA. He can use his strength to suplex his opponents repeatedly, and he has good pressure on top and solid ground and pound. Sometimes he does so much with his wrestling that he runs out of energy by the end of the fight, but if he learns to be more conservative or ups his cardio he will be a huge threat. The UFC already missed out on a deal with Amir as he was a free agent for sometime before he signed with top Chechen promotion, ACB, but if somehow he is able to be picked up through the year, Amir is a no-brainer.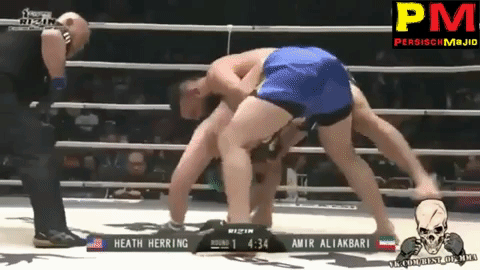 Photo Credit: Tapology.com
Ivan "Ural Hulk" Shtyrkov
29 | 6'0″ | Shlemenko Storm School | Yekaterinburg, Russia | 13-0 |10 Finishes |
5 KO/TKO's, 5 Submissions (3 Armbar's, Heel Hook, Scarf-Hold Armlock) | Combined
opponents record- 211-115 | Best win- Antonio Silva (19-10)
He has already beat four former UFC fighters Jeff Monson, Rodney Wallace, Phil De Fries, and Antonio Silva. Shtyrkov gets visibly tired but it's because of all the energy he puts into his fights. He has the power on his feet to drop anyone but tends to get hit a lot. Luckily he has shown a good chin and is able to take one to give one. Shtyrkov does have better wrestling, though, with a wide variety of takedowns from body lock takedowns, to double legs, to trip takedowns, showing both power and athleticism, which comes from his extensive sambo background. On top, Ivan is a strong submission threat, with five of his wins ending with a submission, four of them by an arm bar, which is not seen too often from an heavyweight. I will say I think Shtyrkov is better built for light heavyweight and he should consider that move.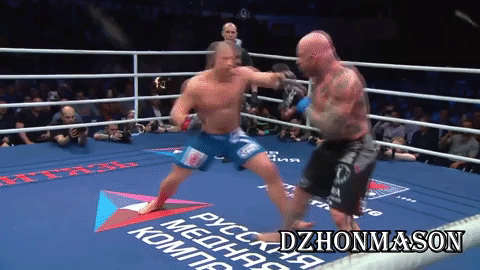 Photo Credit: Tapology.com
Denis "The Russian Bogatyr" Goltsov
27 | 6'6″ | Sambo-Piter | St. Petersburg, Russia  | 20-5 | 16 Finishes |
9 KO/TKO's, 7 Submissions (3 Armbar's, 2 Triangles, Kimura, Guillotine) | Combined
opponents record- 316-106 | Best win- Brett Rogers (16-8)
At only twenty-seven, Goltsov has beaten a string of well-known fighters in James McSweeney, Chase Gormley, Peter Graham, Brett Rogers, Konstantin Erokhin, Mike Kyle and Paul Buentello. He is proficient everywhere and he does dominate fights regularly. Goltsov has the laid back style where he can work a precise and impactful jab for as long as he pleases, but then he can switch it up and launch a head kick out of nowhere. Goltsov is a multiple-time Combat Sambo champion and placed first at this year's Euros. Goltsov is the finished product and is only getting better and better. He's arguably the best heavyweight prospect out there. He's been fighting for the ACB promotion for quite some time, and I may be wrong but, I heard he wants to fight in the UFC, so once his contract is up I wouldn't be surprised to see him in the Octagon later this year.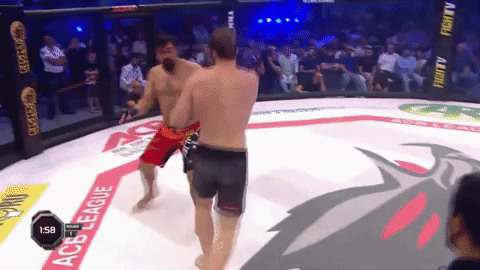 Juan "The Kraken" Adams
25 | 6'5″ | Paradigm Training Center | Houston, Texas, US  | 2-0 | 100% Finish rate |
2 KO/TKO's | Combined opponents record- 4-5 | Best win- Brice Ritani-Coe (4-3)
Although only 2-0 as a pro, Adams also went undefeated as an amateur, going 4-0. Adams is a behemoth heavyweight, standing at 6'5 and at 265 pounds. Adams is a pure wrestler so you know once he's on top he's not coming off. Adams has finished all his career fights by TKO showing his ground and pound is fight ending. Adams is still green for sure, but its understandable as he only has two pro fights, if he can sharpen up his striking Adams will be a nightmare for anyone he fights. "The Kraken" is fighting again for LFA January 26, and with a win, he may be on the Dana White's Contender Series sometime in 2018 and may earn a contract that way.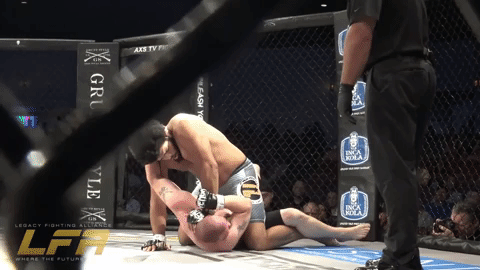 Shawn Teed
25 | 6'5″ |  Ricardo Almeida BJJ/Nick Catone MMA | New Jersey, US  | 5-1 | 100% Finish rate |
1 KO/TKO, 4 Submissions (2 Keylocks's, 2 Americana) | Combined
opponents record- 9-3 | Best win- Jonathan Romero (2-0)
Teed is a bit one-dimensional with his wrestling/BJJ, but he is very dominating in that area. Teed does pull guard at times, but he is really confident off his back with his jiu-jitsu, with the majority of his submissions coming off of his back. He has only one loss on his record to UFC fighter Azunna Anyanwu. Since then he is back on the board with two wins. To succeed in the UFC Teed will have to develop a little more, but at 25 I really like where he is going in his career. Being with the CFFC promotion, if he wins just a few more in a row I definitely see the UFC picking him up.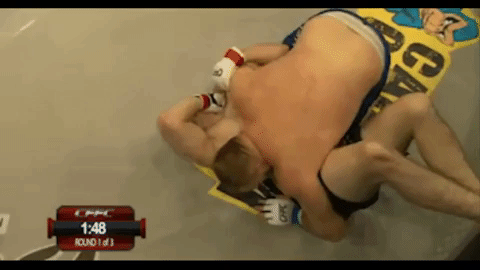 Photo Credit: WWFC
Sergiu "Polar Bear" Spivac
22 | 6'3″ | Moldova  | 7-0 | 100% Finish rate |3 KO/TKO's, 4 Submissions
(2 Armbar's, Kimura, RNC) | Combined opponents record- 179-86 | Best win- Travis Fulton (255-54-10)
Spivac is a fighter that relies heavily on his size and strength. Although four of his seven wins are by submission, he could really improve his success rate by sharpening up his offensive wrestling. He has the ability but needs to set up his attempts better. On top, Spivac is a force. He likes mount and has very strong active ground and pound, but his ability to go for the armbar is impressive for a big man, and he does it well, with two of his wins coming from that submission. On the feet, he is serviceable once he lets his hands go and starts to string together combinations. He even has the ability to throw kicks up top with relative success, getting a knockout by a head kick. At the age of 22, Spivac has a good future with the right push. I believe the only other Moldova based fighter to ever be in the UFC is Ion Cuteleaba who is doing very well in the UFC.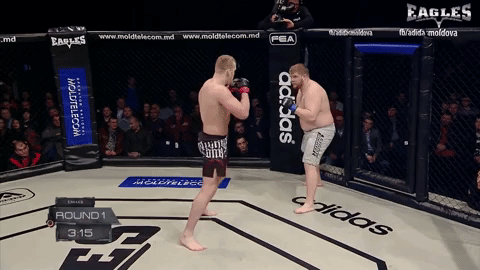 Photo Credit: acbmma.com
Zelimkhan "Achilles" Umiev
36 | 6'5″ | Akhmat FightClub | Grozny, Russia  | 10-1 | 8 Finishes |
2 KO/TKO's, 6 Submissions (2 RNCs, Armbar, Guillotine, Kimura, Arm-Triangle) | Combined
opponents record- 67-30-2 | Best win- Virgil Zwicker (15-5-1)
With an extensive background in Combat Sambo, Umiev may be 36 but his performances haven't at all shown his age, as he's been mauling guys throughout his career with only one loss to his name. Umiev trains out of a great camp in Russia with some of the best talent coming out Region. I'm not sure if the UFC will even look at Umiev, but I really believe he can beat guys right now in the division and maybe get inside the top 15.

Follow @MMATodayNews on Twitter and check out MMA Today's website for the latest in the world of mixed martial arts