10 light heavyweight prospects the UFC should look at in 2018
In the year of 2017 the UFC has really made some moves in picking up some solid guys in Gokhan Saki (1-0 UFC), Jordan Johnson (2-0 UFC), Dominick Reyes (2-0 UFC), Michal Oleksiejczuk (1-0 UFC) and current title contender Volkan Oezdemir (3-0 UFC), and still some guys that haven't made their debut yet in Mike Rodriguez (9-2 MMA), Azamat Murzakanov (7-0 MMA), Marcin Prachnio (13-2 MMA), and Magomed Ankalaesv (10-0). Here are ten light heavyweights the UFC should bring in for 2018 in no particular order:

Photo Credit: Cage Warriors
Karl Moore
30 | 6'2″ | Fight Academy | Ireland| 8-1 | 6 Finishes |
2 KO/TKO's, 4 Submissions (2 RNC's, Triangle, Arm-Triangle) | Combined opponents record- 49-32 | Best win- Cyril Asker (2-0)
Moore was set to make history November 25, 2017, when he was going to attempt to be the only second person behind Conor McGregor to win two consecutive belts in Cage Warriors, as he was set to face Mauro Cerilli for the heavyweight title. Although Moore is more of a grappler, he isn't bad at all on the feet, he is just a much stronger force on the mat. He's already been asked to be a standby for a UFC card back in December 2016, so is on their radar. Moore is currently rescheduled to fight Mauro Cerilli for the heavyweight belt, and with that win we will 100% see Moore in the UFC.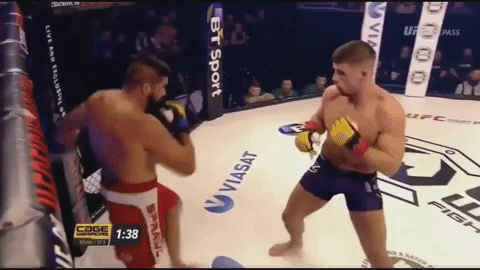 Photo Credit: Tapology
Kyle Noblitt
28 | 6'2″ | Glory MMA & Fitness | Missouri, US| 9-0 | 8 Finishes |
2 KO/TKO's, 6 Submissions (2 Guillotine's, 2 Tap to Strikes, RNC, Kneebar) | Combined opponents record- 40-30 | Best win- Antonio Paulo Branjao (4-0)
Noblitt is a former heavyweight who made the move down to 205, where he won in his LFA debut. Noblitt was an all-state wrestling standout and relies on that skill-set in MMA. Noblitt is a decent prospect. His striking is still a work in progress, but his wrestling and his ground skills are where they need to be. Noblitt is an excellent offensive wrestler and a strong counter wrestler as well, and he has good jiu-jitsu skills for a bigger guy. Noblitt was set to fight on the Dana White's Tuesday Night Contender Series but his troubled past removed him from that fight. The UFC are hardly the moral compass of sports and have shown in the past that if you keep winning they are willing to overlook past indiscretions.  If they do he will be in the UFC.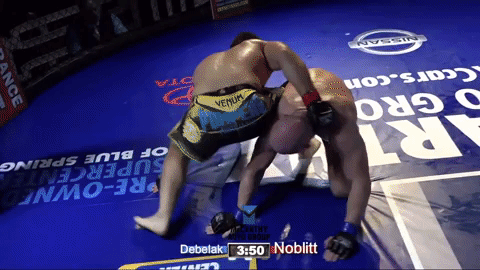 Photo Credit: ACB
Batraz Agnaev
29 | 6'5″ | Alexander Nevsky Club | Vladikavkaz, Russia | 4-0 | 100% Finish rate |
3 KO/TKO's, 1 Submission (RNC) | Combined opponents record- 41-11 | Best win- Thiago Silva (19-5)
Although not a lot of experience but for a light heavyweight, Agnaev shows a lot of promise. Agnaev has been tested well for such a young fighter as he steamrolled well regarded Swedish veteran Max Nunes and finished UFC veteran Thiago Silva. He has been taken down but showed good work off his back and swept position effectively. He has insanely heavy ground and pound, which is probably his best weapon, though everything he throws on the feet is very heavy as well. He is currently with ACB so if there is an opportunity to get him through the year the UFC will have to make a nice offer to do so.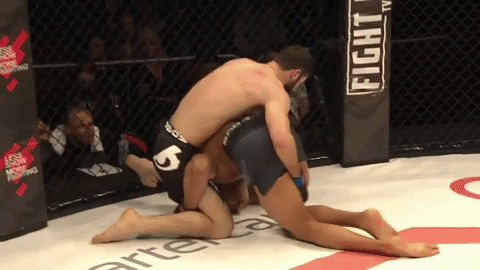 Photo Credit: OMA Photo
Alonzo Menifield
30 | 6'1″ | Saekson Muay Thai| Texas, US| 5-0 | 100% Finish rate |
5 KO/TKO's | Combined opponents record- 21-8 | Best win- Daniel Jolly (5-2)
Menifield had a massive opportunity in July of last year when he fought on the Dana White's Tuesday Night Contender Series. Menifield would defeat former UFC fighter Daniel Jolly, but it was the end of the fight that was disappointing as Jolly was unable to answer the bell at the start of the second round. Menifield, though, is still an exceptionally athletic fighter with huge power in his hands, and he does have a fight set for February 16, and with a win I expect 100% the UFC to pick him up.


"The Brute" Jim Crute
21 | 6'3″ | Greco and Stewies house | Melbourne, Victoria, Australia | 6-0 | 4 Finishes |
2 KO/TKO's, 2 Submissions (Armbar, Triangle) | Combined opponents record- 47-27 | Best win- Steven Warby (9-2)
Crute is predominantly a jiu-jitsu guy that is complimented well with his wrestling. Crute has good explosion into his double legs and on top he is excellent. He knows how to pass guard very well and is stellar at getting the mount. Crute has shown he can chain submission attempts together and has shown effective ground-and-pound. His striking is also coming along well under former K-1 fighter, Sam Greco. I've heard Crute has been looked at by the UFC, and with them going to Australia often I look for him to be signed.


Photo Credit: mmaviking.com
Kenneth Bergh
28 | 6'2″ | Frontline MMA | Norway | 6-0 | 100% Finish rate |
1 KO/TKO, 5 Submissions (4 Guillotine's Arm-Triangle) | Combined opponents record- 23-11 | Best win- Norman Paraisy (15-5-2)
Bergh I would like to see fight a couple more times before coming to the UFC, before possibly making his debut at the end of the year. Bergh still needs to work on his cardio, although for him it usually isn't needed as he's finished all his fights, but he does generally slow down after the first. His striking from range still needs work but he is solid in the thai clinch. On the mat is where he wants to be, though. Bergh is very strong on the ground with his takedowns to his grappling to his submissions. I will say it looks like Bergh is likely better built for middleweight but he has the look and he is very talented.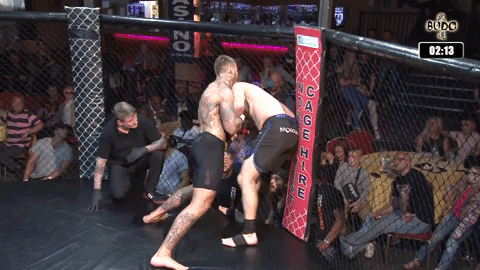 Klidson Farias
25 | 6'1″ | Slam MMA | Manaus, Amazonas, Brazil | 11-2 | 100% Finish rate |
4 KO/TKO, 7 Submissions (6 RNC's, Armbar) | Combined opponents record- 56-26 | Best win- Leonardo Silva (7-0)
Farias is a solid BJJ guy that is very physically strong, but for a bigger guy he is really light on top and transitions so smooth. Farias does well on the feet, he at times lacks footwork but he is explosive and they way he strikes his way into the clinch is very well done. Farias has good wrestling which compliments his BJJ. Overall he's a solid prospect. He is the current Brave CF light heavyweight champion so I like his chances to sign this year.
Brave FC HW Championship Fight – Klidson Farias def. Timo Feucht by 2R submission – HL pic.twitter.com/fosesPATbw

— Jolassanda (@Jolassanda) August 13, 2017

Kennedy Nzechukwu
25 | 6'4″ | Fortis MMA | Dallas, Texas, US | 3-0 | 1 Finish  |
1 KO/TKO | Combined opponents record- 14-11 | Best win- Anton Berzin (5-1)
Nzechukwu competed on the Dana White's Tuesday Night Contender Series this past August and won by split-decision against the CFFC champion Anton Berzin. In that fight, Kennedy didn't impress too much but showed a lot of upside for a young, relatively inexperienced prospect. With an 83.00″ reach Kennedy does a fine job at utilizing his distance and keeping an opponent at bay, but if he can put together combinations he will be a force. With the Contender Series rumored to appear sometime again later this year I can see Kennedy getting another shot and if the improvements are there they will take a shot.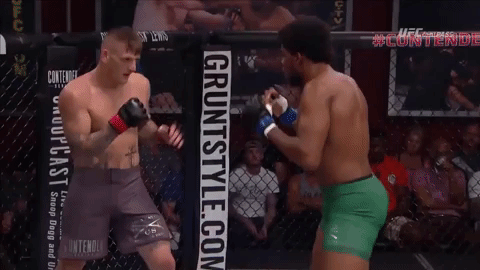 Photo Credit: Tapology
Mikhail Mokhnatkin
27 | 6'3″ | Fight Nights Team | St. Petersburg, Russia | 10-2-2 | 7 Finishes  |
2 KO/TKO's, 5 Submissions (3 RNC's. Scarf hold Armlock, Tap to Strikes) | Combined opponents record- 132-74 | Best win- Fabio Maldonado (22-10)
Mokhnatkin has fought at heavyweight in his last two bouts, but to my understanding he will actively fight at both weight classes. Going forward it would appear Mokhnatkin is better suited to light heavyweights. Mikhail has been fighting some solid competition on the Russian scene, mainly with the Fight Nights Global promotion. He has an impressive background in Combat Sambo being a master of sports.  I like Mokhnatkin's striking a lot, he is very calm and he uses his length and reach very well with leg kicks and especially his jab, which is deadly. His main weapon is to set his opponents up for danger, and his ground game is superb, being a world Sambo champion is just a complete fighter everywhere.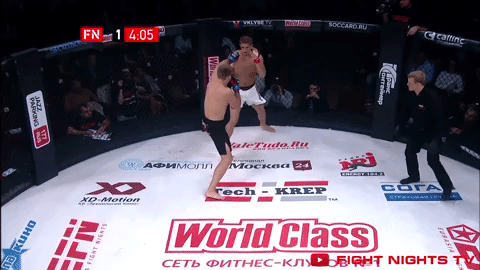 Photo Credit: GCF
Jiri "Denisa" Prochazka
25 | 6'4″ | Jetsaam Gym Brno | Hosteradice, Czech Republic | 20-3-1 | 19 Finishes  |
17 KO/TKO's, 2 Submissions (RNC, Triangle) | Combined opponents record- 116-43 | Best win- Vadim Nemkov (5-0)
Prochazka is arguably the best light heavyweight prospect in the world being that he's already so accomplished, and having fought so many great talents at a young age of 25. At 6'4″ he is a massive fighter and he uses it to his advantage, using leg kicks and knees at various ranges. Prochazka is a very dangerous fighter, finishing 17 of his 19 wins with only one going out of the first round. He is really good at putting pressure on his opponents with a lot of volume, and really excels at putting his kicks and punches together fluidly. Being such a dangerous striker, Prochazka is extremely athletic and he loves to launch himself in the air with flying knees. Prochazka actually isn't locked in on an exclusive contract with Rizin and has said he would like to fight in the UFC. He will be fighting again at Rizin in April so look to the end of the year for him to get signed.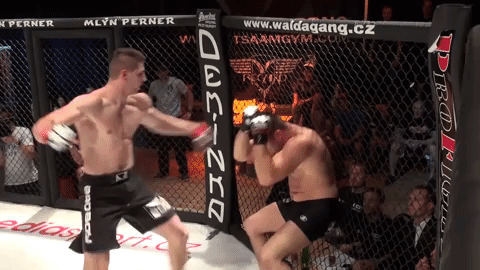 Follow @MMATodayNews on Twitter and check out MMA Today's website for the latest in the world of mixed martial arts.