Chad Hanekom: "There aren't many bigger guys who are able to move like I can"
Chad Hanekom is a very promising prospect out of South Africa that fights in the middleweight division, which is in some big-time need of fresh new talent. You may have seen Hanekom compete in Africa's foremost promotion EFC, where he went 3-0, before making his US debut in his last bout for the California promotion GKO. I had the pleasure of speaking with Hanekom recently.
Before we start I'd like to thank Chad for his time.
Hi Shawn. Thank you so much for the opportunity of this interview. You're always doing such great work for us fighters. On behalf of all the fighters, I'd like to say thank you.
First of all, How did you get into MMA? Do you have a background in any other sports?
I have a background in professional rugby. I played rugby all my life from a very young age. I got into MMA as extra conditioning and training to help with my rugby career. I quickly fell in love with MMA and it was not long after that I made the transition.
What is the meaning of your nickname, "Superman"?
It was a name that was given to me in high school whilst playing rugby. It was something that my team mates at Fight Fit Militia heard about and it kind of just stuck with me. Maybe it's because of my super speed, strength or x-ray vision…lol, nah.
You train with Fight Fit Militia is South Africa and Team Alpha Male when you travel to the US. How do you like splitting camps with two top-notch camps? I'd say it's improved you so much as a fighter, correct? Who are some of your main sparring partners?
That is correct. In my last camp for my GKO bout, I split my camps between FFM in South Africa and then completed the last five weeks of camp at TAM. It was my first time doing that and I must say I really enjoyed it. A very good friend of mine JP Buys recommended it as he does his camps at TAM. It was great to be surrounded by such great coaches and training partners. Urijah and the guys at TAM really welcomed me and made me feel at home. I am very grateful to them, and also very grateful to my Head Coach Richard Quan, and my team in South Africa for everything they do for me.

What would be your favorite striking technique and grappling technique?
To be honest, I do not favor any specific techniques on the ground or standing up. I appreciate every technique for what it is; all in pursuit of becoming a well rounded martial artist.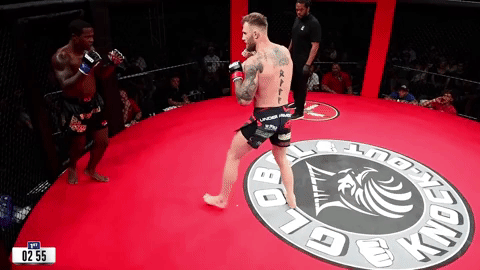 You made your middleweight debut in your last bout and your next bout is at 185. Is middleweight your new home or would you like to go back up to 205 again at some point? How is the cut to 185?
Yes, middleweight is definitely my new home. Cutting weight is never a fighters favorite thing to do, but it is part of my job as a professional to get it done and I do it. I do feel great at middleweight. I will never rule out a potential fight at light heavyweight in the future as fighters these days have proven to be versatile in more than one division. I suppose if the matchup was worth it then I would do it.
Do you usually watch footage of your opponents before the fight?
I do watch some footage here and there. However, I don't really obsess about my opponents tape. I am pretty versed in all areas and I believe most guys are too. But these days you can't afford to train for one specific opponent's style because last-minute fights are something that happens so much more regularly so I try to be as well rounded as I can.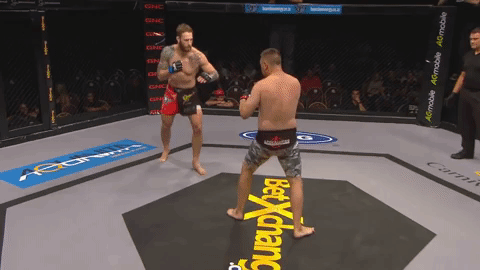 You are set to fight for the Brave CF promotion March 2, against undefeated Ikram Aliskerov. Who will you have in your corner for that fight?
I will have my head coach Richard Quan and teammate and friend JP Buys. My third corner is still to be decided.
You have finished all your career fights, is that usually the plan or is it just how it happens? How do you envision your fight with Ikram going?
It's not really a set plan It's just the way it happens. I'm an exciting fighter that likes to make things happen, as is Ikram. The fight will most likely hit all areas and I believe there will definitely be a finish somewhere along the line.

If there is one thing you think you can work on that will make you perform better what would it be? What makes you a special fighter in your opinion?
You're never complete as a martial artist and can learn something and improve every day on the mat. I think the thing that'll make me stand out is that there aren't many bigger guys who are able to move like I can, mixed in with all the other 'big guy' attributes.
Is the UFC your ultimate goal? It would seem to be important to represent South Africa because so far they haven't fared so well in the UFC?
For now, my only real focus is my upcoming fight as I take it one fight at a time. I want to serve out my contract with Brave to the absolute utmost of my ability as I am really happy to be fighting for such a great promotion. I think any fighters benchmark is to fight in the UFC, so yes, I would like to fight there someday. With regards to representing South Africa abroad, I do think it's important for me to keep showing the world what South Africa's new generation of fighters are capable of. I believe in the past we have been misrepresented in the performances of the athletes who've had the chance to be on such platforms. Trust me, we've got some killers back in South Africa, and believe me when I say it's just a matter of time before we're on the map.
Last question, where do you see yourself in three years? 
In three years time, I would like to be a healthy, happy world middleweight champion actively fighting and defending my belt. It would be great if I were fighting in the UFC against top 10 opponents as this is where I believe I belong. But as I said, for now my full attention is on my contract with Brave and my upcoming bout.
Follow @MMATodayNews on Twitter and check out MMA Today's website for the latest in the world of mixed martial arts.