Fighter Spotlight: Angela and Andrea KGB Lee
Each week, the Fighter Spotlight column focuses on two fighters to keep an eye on. One UFC fighter competing this weekend who is considered someone to watch for in the future, and one prospect who is highly-touted and ready to make the jump to the UFC. This week's spotlight features:
UFC Chile, Saturday. (5/19)

Andrea "KGB" Lee
8-2 MMA, 0-0  UFC | Flyweight | 29 | 5'6″ | Shreveport, Louisiana |
Karate Mafia MMA | 2 KO/TKOs, 4 Submissions (3 Armbar's, 1 Kimura) | Best Win – Rachael Ost (24-2)
KGB Lee is a kickboxing North American champion, a world Muay-Thai champion, and a National Golden Gloves champion and shows all that in her MMA career. KGB Lee is dangerous from a distance with her kickboxing when inside, she uses her crisp boxing being her best weapon on the feet. She has good hand speed but it's her volume that is really noticeable. In the clinch, she has good knees and is very relentless on her offensive output. With all the accomplishment Lee holds on the feet her ground game is just as dangerous, she has solid jiu-jitsu, she is an excellent grappler with a strong submission game and some decent wrestling. I really see Lee as a future title contender in the new UFC Women's Flyweight division. This Saturday, Lee will take on Venezuelan Veronica Macedo (5-1-1). Macedo is talented and has a good offensive attack but is very green and worse defense everywhere.


Stand-up: B+
Wrestling: C
Grappling: B
Submissions: B
Cardio: B
Takedown Defense: B
Striking defense: B
One Championship, Friday. (5/18)

"Unstoppable" Angela Lee
arguably the best strawweight fighter outside the UFC. she has very good judo and fights like a vet on the mat. She has really good control and can go from position to position easily and has with six of her seven wins by submission. Lee's grappling is her most advanced aspect as she has excellent back takes and finishing ability with the RNC but is dangerous everywhere -she even holds a rare twister submission victory. Her striking has been improving a lot and only getting better. I'm not sure of her contract length with One Championship but everyone wants to see Lee in the UFC so once she becomes available she is a must for the UFC. This Friday she has eyes set on a rematch with Mei Yamaguchi (17-10-1) who Lee already beat by unanimous decision 2 years ago.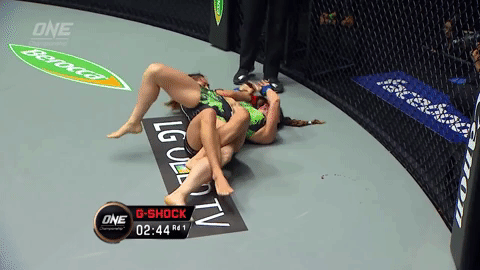 Stand-up: C
Wrestling: C+
Grappling: A
Submissions: A
Cardio: B-
Takedown Defense: B-
Striking defense: C+