Fighter Spotlight: Ramazan Emeev and Fabian Edwards
Each week, the Fighter Spotlight column focuses on two fighters to keep an eye on. One UFC fighter competing this weekend who is considered someone to watch for in the future, and one prospect who is highly-touted and ready to make the jump to the UFC. This week's spotlight features:
 UFC 224, Saturday (5/12)

Ramazan Emeev
16-3 MMA, 1-0  UFC | Middleweight | 30 | 5'11" | Makhachkala, Russia |
Gorets Fight Team | 3 KO/TKOs, 7 Submissions (3 Rear-naked chokes, 2 Armbar's, Brabo Choke, Guillotine, | Best Win – Anatoly Tokov (24-2)
Emeev has a lot of hype coming behind him into his UFC debut in October of last year. Just a year ago Emeev was considered as one of the best prospects coming out of Russia as he held the M1 Challenge middleweight title where he was actually the two-time champion. When Emeev made his debut against Sam Alvey it wasn't the performance everyone expected as the fight was a bit slow. Even though the fight with Alvey wasn't great he still came in and beat a veteran of the UFC on short notice. Emeev isn't the aggressive striker but is a very calculated counter striker. He has better wrestling and a solid top game with a big submission threat as he's as well rounded as you want in a fighter. This Saturday Emeev is set to take on Alberto Mina who is undefeated at 13-0. Mina is an explosive fighter on the feet but is more known for his base in BJJ. Mina is coming off nearly a two year lay off but is the perfect opponent for each other to really test where they are at in the division.

Stand-up: C+
Wrestling: B
Grappling: B-
Submissions: B
Cardio: C
Takedown Defense: A
Striking defense: A-
Bamma 35, Saturday (5/12)

Fabian "The Assassin" Edwards
4-0 MMA | Middleweight | 24 | 6'1″ | Birmingham, England |
Ultimate Training Centre | 1 KO/TKO, 3 Submissions (2 Rear-naked chokes, 1 Armbar's) | Best Win – Kent Kauppinen (10-2)
Edwards is only 4-0 as a pro but has a stellar amateur record of 10-0. He is the younger brother of UFC star Leon Edwards. Much like Leon, Fabian has been on a tear outside of the UFC and many think he could succeed in the UFC as well. The only visible weakness seen in his career is that he finds himself on his back at times without much of a plan to get up. However, he has gotten a lot better with his takedown defense and scrambles. Edwards is a very scary fighter, especially on the feet. He has the power in his hands to put guys to sleep, which he's shown throughout his career. He throws everything to end the fight and has also won a couple of his fights with knees/flying knees but three of his pro fights are won via submission. Edwards is an explosive, athletic beast that is a tremendous prospect. He is currently under contract with Bamma but this fight may be his last on his contract. This Saturday he will take on Italian Claudio Conti who is a good test for Edwards.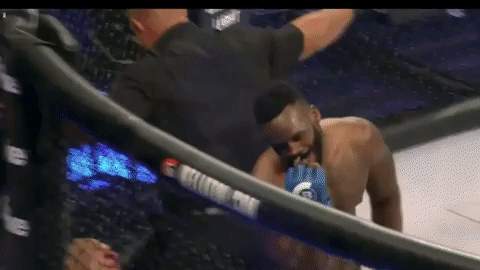 Stand-up: B+
Wrestling: B-
Grappling: B-
Submissions: B+
Cardio: C
Takedown Defense: C
Striking defense: C+