Fighter Spotlight: UK's stars in Arnold Allen and Daniel Crawford
Each week, the Fighter Spotlight column focuses on two fighters to keep an eye on. One UFC fighter competing this weekend who is considered someone to watch for in the future, and one prospect who is highly-touted and ready to make the jump to the UFC. This week's spotlight features:
UFC Liverpool, Sunday. (5/27)

Arnold "Almighty" Allen
12-1 MMA, 3-0  UFC | Featherweight | 24 | 5'9″ | Felixstowe,England |
BKK Fighters | 5 KO/TKOs, 3 Submissions (Guillotine, Rear-naked-choke, Triangle) | Best Win – Makwan Amirkhani (13-2)
Allen wasn't exactly "thrown to the wolves" in his three UFC fights but didn't get the easy road as he took on Alan Omer, Yaotzin Meza, and Makwan Amirkhani. Allen came into the UFC when he fought Alan Omer. Allen showed octagon jitters against Omer as he lost the first and second round but got the comeback win getting the guillotine in round 3. In his second UFC bout, Allen looked much improved against Yaotzin Meza as he secured four takedowns and shown some solid striking. In his most recent bout against Makwan Amirkhani was a very exciting back and forth fight to a split decision. Allen is a well-rounded fighter who has some things he could work on in terms of both on the feet and the mat.  On the feet, he has the power as well with volume but sometimes he is wild but his counter striking has real potential. Allen has good wrestling and is good off the mat as well but his takedown defense has shown some wear. At 24-years old I like the future of Allen. Stand-up: C+
Wrestling: B-
Grappling: B-
Submissions: C+
Cardio: B
Takedown Defense: C-
Striking defense: B-
Bellator 200, Friday. (5/25)

Daniel Crawford
10-1 MMA | Featherweight | 25 | 5'9″ | Croydon,England |
New Wave Academy | 6 KO/TKOs, 1 Submission (Arm-Triangle) | Best Win – Ronnie Mann (25-9-1)
Crawford rose on the England scene as he boosted a 10-1 record and would win the Bamma featherweight title. Crawford would become a free agent late last year and would be known as one of the best prospects in the 145-pound division and Bellator was the wise one and took Crawford up. Despite six of his 7 finishes being via TKO, his ground game is super impressive. Everything from his submission defense, scrambles, transitions, active pace, and awesome submission skills is a real treat to watch. Crawford is a good striker he has the power to put someone down but it's the way he picks his shots going to the body very often more than you usually see in MMA and is always in your face. Crawford is the real deal. He fights Pedro Carvalho this Friday who do really cause much of a problem for Crawford.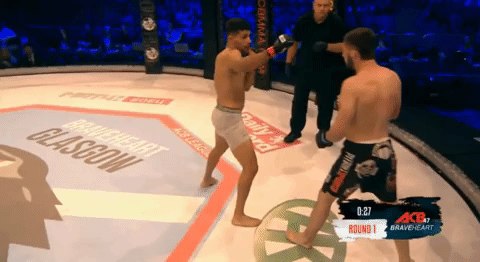 Stand-up: B
Wrestling: C
Grappling: A-
Submissions: C+
Cardio: B
Takedown Defense: B
Striking defense: B