BAMMA 34's Kent Kauppinen: A Big Underdog with No Pressure
Kent Kauppinen is a prospect that has flown largely under the radar. Even with a title on the England scene, Kauppinen is looking to win the biggest fight in his life for the BAMMA promotion, arguably the best promotion in England.  Kauppinen will battle the highly-touted prospect Fabian Edwards on March 9, 2018 at BAMMA 34.
First of all, how did you get into MMA? 
My friend told me to come along for fitness and fell in love.
What's the meaning of "The Hammerhorn" nickname?
My coach came up with the name, can't remember why, but it stuck!
Who are you currently training with and can you explain how you found the camp?
I train mainly at The Lair with coaches, Stu pike, Mark Kent, Brad Scott, Andy Cockram, Ben Smith, and Will Stone.
Who are some of your main sparring partners?
My main sparring partners are Bradley Scott, Jack Eglin and Will Stone
You are currently at middleweight but have fought at heavyweight and light-heavyweight in the past. Is there any desire to move back up? Also, how is the cut down to 185?
I've always walked around about 97kg and decided to try MW. It's hard but I will make it!
Do you have any desire to fight outside the UK? If so, where?
I like to fight, I don't mind where it is, just as long as it's a fight.
You're set to fight Fabian Edwards for BAMMA 34 this week. How do you feel like fighting someone with so much hype? any pressure?
There's no pressure on me, everyone wants him to win everyone thinks he is better and should win, so there's no pressure on me.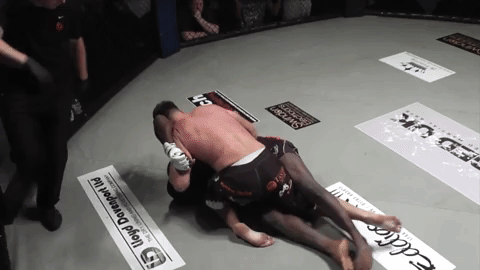 You are being looked over by many against Edwards so with a win, what do you want next? Is a title shot in sights?
I don't really look at what is next. Again anything really whether that is a fight on the next show or another show, as long as I get a fight, I don't mind!
What is your biggest goal to complete in your MMA career?
My biggest goal is to be the best fighter I can possibly be!

What do you think about Fabian calling you a pub fighter?
Hahahahaha it's funny because it's true
Reese's Peanut Butter Cup or Butterfinger?
Both! I'm fat, remember?
Follow @MMATodayNews on Twitter and check out MMA Today's website for the latest in the world of mixed martial arts.