Meet All 16 Flyweights in the TUF 26 Tournament Cast
The Ultimate Fighter Season 26 cast has been released by UFC, and the inaugural flyweight title tournament is filled with a slew of interesting names, both new and familiar.  The season doesn't start until August 30th, but that means you have plenty of time to learn about all of the fighters before the competition gets cracking. Read onward to get familiar with all 16 members of the TUF 26 cast, from A to Z, thanks to MMA Today's global talent scout @MMAWizzard:
Ariel Beck


4-4
Current 2 fight skid
Losses to Andrea Lee and Rachel Ostovich
5'8″
27 years old
2 TKO's
Breakdown: Beck's best feature is her toughness, as she can survive a beating and keep on working for submission attempts. Unfortunately, Beck lacks defense all around – she is very hittable on the feet, her TDD is weak, she leaves herself open for submissions and her cardio isn't strong. On the feet, she has a good left hand but is stationary and telegraphs strikes. Beck has good ground and pound when she can get top position but her wrestling lacks. Overall I wouldn't expect Ariel to go very far in the tournament.
DeAnna Bennett
8-3
Current 3 fight skid
Losses to Roxanne Modafferi, Jodie Esquibel, Liva Renate Souza
Wins over Jennifer Maia, Colleen Schneider, and Julianna Pena
32 years old
5'4″
Fighting out of The Pit Elevated Fight Team
2 TKO's
2 Submissions (RNC)
Breakdown: Bennett is talented, especially at flyweight where she is in better shape than when she tried to cut to 115. On the feet, she is very strong, especially in the clinch where she can control position and landed knees.  She can also strike at range with good long punches and she has shown power in the past. Bennett has good wrestling, mainly cage wrestling where she is the strongest. On top, she is heavy and can be a threat with submissions on top or off her back. Bennett's biggest problem is her unwillingness to engage and that seems to be a big problem in all her fights. You hardly see her press forward or create any kind of offense of her own, she just relies on the fight being brought to her and that's why a lot of her fights are close decisions.
Shana Dobson

2-1
1 fight win streak
28 years old
5'6″
Fighting out of Phalanx MMA
Breakdown:  Dobson prefers to keep the fight standing where she does pretty good with her leg kicks maybe being her best weapon. The leg kicks are thrown heavy enough to drop her opponents to the mat. Considering the amount of force she throws with her striking is good, as she uses combinations and is accurate.  Dobson has a big issue in leaving her chin straight up and leaving it on the center line with no head movement at all. I like her skillset but I'm not sure how she will do against top competition.
Sijara Eubanks

2-2
1 fight skid
32 years old
5'3″
Losses to Aspen Ladd and Katlyn Chookagian
Fighting out of Team Lloyd Irvin
IBJJF world champion
2 TKO's
Breakdown: Sijara is a lot better than her record shows as her only two losses are to UFC fighters and she put on a good showing in each. Obvously her strong suit is on the mat, with all her accomplishments, but she does like to stand and trade as well. Sijara can throw down when needed, she has heavy hands and she likes to keep moving forward – she's not always technical but is still usually effective. When she closes the distance she's likely to takes you down as she's very physically strong. Despite being an accomplished grappler, Sijara is actually more of a threat with ground and pound, with both her wins coming that way. I really like Sijara but I don't think 125 is for her, I think 135 is where she is best.
Malinda Fabian

4-3
1 fight skid
5'6″
Losses to Lucie Pudilova and Katlyn Chookagian
fighting out of Top Team Budapest
4 submissions (2 Armbars, Footlock, RNC)
Breakdown: I haven't found much on her at all, but from what I saw she has decent kickboxing, is strong in the clinch, and a big threat to any limb for the submission. But I also saw poor defense from her back, single strikes no combinations, and no movement at all. Not sure what we can expect from Fabian.
Karine Gevorgyan

3-2
1 fight win streak
5'8″
Loss to Veronica Macedo
Fighting out of Air Fight Club
3 submissions (RNC)
Breakdown: Gevorgyan is mainly a grappler with very little striking polish. She is a pretty good wrestler and on top is exactly where she wants to be. She's good at transitions, good ground and pound, and heavy on top. She is a wildcard to me but I can comfortably say she won't make it too far in the show.
Barb Honchak

10-2
Current 9 fight win streak
Layoff since 2014
37 year old
5'4″
Former Invicta FC 125 champion
Fighting out of Miletich Fighting System
Wins over Leslie Smith, Vanessa Porto, Aisling Daly, Roxanne Modafferi, Nina Ansaroff, and Felice Herrig
Losses to Cat Zingano and Angela Magana
2 submissions (RNC)
1 TKO
Breakdown: Despite the long layoff, Honchak is one of the better 125ers out there – bet on it. Barb is a complete fighter who can do it all. She is good in every aspect on the feet, and she throws a lot of volume in combinations mixing in kicks and knees perfectly. She is accurate, aggressive, and times takedowns well after setting her wrestling up with strikes. On top, she is relentless with ground and pound and does threaten with submissions. Honchak is definitely a favorite to win this thing.
Christina Marks

8-8
3 fight winning streak
31 years old
5'6″
Fighting out of Fight Ugly
Losses to Sarah D'Alelio, Colleen Schneider, Alexis Dufrense, and Sara McMann
3 TKOs
2 submissions (Guillotine, RNC)
Breakdown: From what I've seen Marks is low level, someone I would expect not to on the show – not to seem rude, but it's the truth. The only thing I think she does well is dirty box in the clinch but mostly I've seen her with her back against the fence getting controlled. Don't expect anything from Marks.
Roxanne Modafferi
21-13
Current 2 fight win streak
34 years old
Former UFC fighter
5'6″
Fighting out of Syndicate MMA
Wins over Sarah D'Alelio, DeAnna Bennett, Andrea Lee, Tara LaRosa, Vanessa Porto, and Marloes Coenen
Losses to Tara LaRosa, Marloes Coenen, Shayna Baszler, Sarah Kauffman, Rosi Sexton, Barb Honchak, Raquel Pennington, Vanessa Porto, and Jennifer Maia
3 TKOs
5 submissions (3 Armbars, RNC, Triangle)
Breakdown: Roxanne still has a lot of fight left in her 34 fights into her career. I do fear for her if she stays striking too long – she has improved offensively drastically, but still little head movement and is slow to react. She can win some exchanges on the feet but if it hits the mat she is in her world. Roxanne is a great practitioner on the mat, her BJJ is crazy good and the way she can go from submission to submission is better than most. She has developed lethal ground and pound, as she throws actively and lands huge elbows. I expect Modafferi to do very well on the show.
Lauren Murphy
9-3
1 fight skid
34 years old
Current UFC fighter
5'8″
Fighting out of MMA Lab
Wins over Kelly Faszholz and Sarah D'Alelio
Losses to Sara McMann, Liz Carmouche, and Katlyn Chookagian
7 TKOs
Breakdown: Murphy is one of the toughest women in the UFC, and is able to take a lot of shots to deal some of her own. She is always moving forward, throwing and looking for openings.  If she gets on top don't expect her to stop working as she has very effective ground and pound. Look for Murphy to go far on the show.
Nicco Montano
3-2
1 fight skid
28 years old
5'5″
Fighting out of FIT NHB
Losses to Pam Sorensen and Julia Avila
Win over Shana Dobson
2 TKOs
Breakdown: Montano isn't a big name but I think she's better than her record suggests. On the feet, she has good kickboxing, staying active and keeping distance well. She doesn't really use combinations though which is something that she needs to add to the package. Montano is good in the clinch, with good knees and good judo. Once she scores the takedown she is good on top all around. I don't expect Montano to win the tournament, but she's no slouch and has the potential to win a fight or two.
Rachael Ostovich
3-3
1 fight skid
26 years old
5'3″
Fighting out of Jesus is Lord
Losses to Andrea Lee and Christine Ferea
Win over Ariel Beck
1 submission (Armbar)
Breakdown: Ostovich is what you would call one dimensional – strictly grappling. She has very good grappling once on top, and is very active with ground and pound and submission attempts. Although she's a good grappler, her big problem is that her wrestling is telegraphed and has no chain wrestling it's just basically her shooting in but no follow up. On the feet she has trouble defending her face and slows down fast once she gets hit. Ostovich can give anyone with weak takedown defense problems, but once someone stops her takedown she's in trouble.
Gillian Robertson

3-2
1 fight win streak
22 years old
5'2″
Fighting out of American Top Team
Loss to Cynthia Calvillo
2 submissions (Armbar, RNC)
Breakdown: Robertson is small for Flyweight, where I can easily see her getting out muscled by natural 125ers. She is still very green as she has decent wrestling, good footwork, a good jab but she doesn't put her skills together and is very tentative. Then again Robertson is only 22, so maybe she's ready to make a big leap inside the TUF house.
Maia Stevenson
6-4
5 fight win streak
35 years old
5'4″
Fighting out of Joe Stevenson's Cobra Kai
Married to veteran Joe Stevenson
Losses to Danielle Taylor and Rachael Cummins
3 TKO's
2 submissions (Armbar)
Breakdown: She really has no footage of her to really get a good read on her. She is definitely a complete wild card here.
Montana Stewart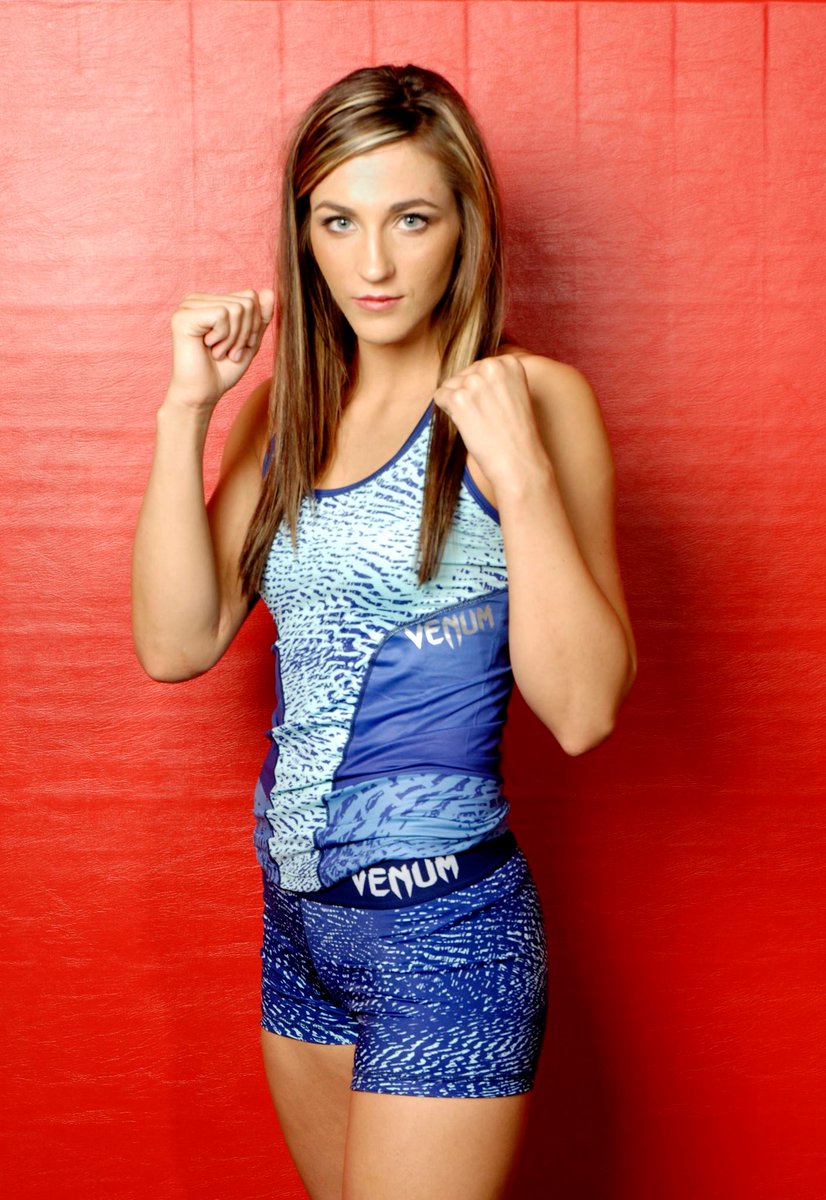 7-4
1 fight win streak
22 years old
5'4″
Fighting out of Team Takedown
Losses to Cynthia Calvillo and Mackenzie Dern
5 submissions (3 Armbars, 2 RNC)
Breakdown: Montana has competed in many grappling tournaments and in her MMA career the ground game is obviously her strong suit. At only 22 she has a lot promise – of course she needs some work, but she has the abilities to be a contender on this season. Her wrestling is good but her grappling is even better with a solid submission game showing she is dangerous on top or bottom. Montana is a good talent but I'm not sure if she's ready to beat some of the vets on this season.
Emily Whitmire
2-1
1 fight win streak
26 years old
5'6″
Fighting out of Xtreme Couture
Win over Emily Ducote
Breakdown: Emily is a good wrestler who favors takedowns against the fence, utilizing trip takedowns and even hip tosses. On the mat, she is dangerous with submissions on top or bottom – which is a good thing because at times she finds herself on her back. Good ground and pound and a solid submission base show that she is versatile on the mat, but I still haven't seen her stand up. Against some of these women who have solid TDD she could be in trouble on the feet, or maybe she'll surprise us with solid striking.