The Undefeated Vol. 6: Angela Lee and Lerone Murphy
There are currently 42 undefeated fighters on the UFC roster that includes…
Martin Buschkamp (10-0), Azamat Murzakanov (7-0), Alonzo Menifield (7-0), Anthony Hernandez (7-0), Antonina Shevchenko (6-0), Maycee Barber (5-0), Bevon Lewis (6-0), Edmen Shahbazyan (7-0), Jim Crute (8-0), Tai Tuivasa (8-0), Dmitry Sosnovskiy (11-0), Jordan Johnson (10-0), Dominick Reyes (9-0), Paulo Costa (14-0), Trevin Giles (11-0), Alexey Kunchenko (19-0), Israel Adesanya (14-0), Claudio Silva (12-0), Khabib Nurmagomedov (27-0), Gregor Gillespie (12-0), John Gunther (5-0), Michael Trizano (7-0), Luis Pena (5-0), Brad Katona (7-0), Sean O'Malley (10-0), Benito Lopez (9-0), Manny Bermudez (13-0), Deiveson Figueiredo (15-0), Ketlen Vieira (10-0), Aspen Ladd (7-0), Lauren Mueller (5-0), Aleksandra Albu (3-0), Tatiana Suarez (7-0), Nadia Kassem (5-0), Mackenzie Dern (7-0), Sarah Frota (9-0), Mayra Bueno Silva (6-0), Marina Rodriguez (9-0-1), Taila Santos (15-0), Sergey Pavlovich (12-0), Ben Askren (18-0), and Sergio Giglio (12-0).
Angela Lee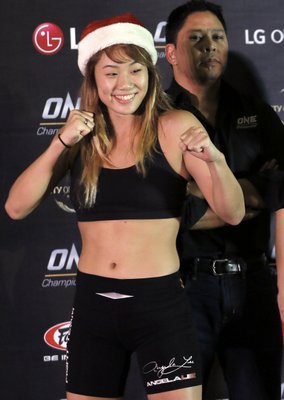 Strawweight | 9-0 | Combined Opponents Record:  63-27 |
Tanjong Pagar, Singapore | 5'4″ | 22-years-old
Lee isn't really fighting as a "rising prospect" anymore as she has shown she is a legit fighter and one on the best strawweight's in the world beating opponents such as Istela Nunes, Jenny Huang, and Mei Yamaguchi twice. Lee has fought her entire pro career for ONE Championship and along the way she has captured the strawweight title. On the feet, Lee is still improving but once she gets loose as the fight goes on she is effective with her output. At range, she does throw a good teep kick to the midsection she uses a lot. She thrives much more in the clinch though where her strength is more superior and it is where she unleashes the elbows and knees. She does wanna close the distance more as she can really let her kicks, knees, and punches go landing beautiful combinations.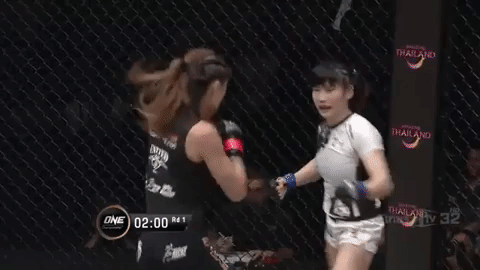 Lee is a master at utilizing trips to get the takedowns once she closes the distance.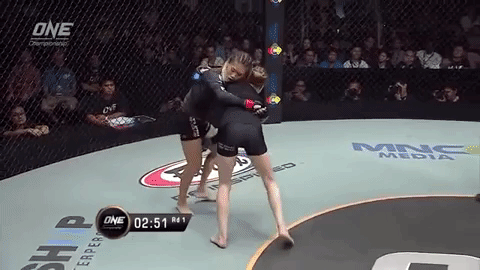 Once on the mat, Lee is at home where she is high-level and the reason she is an undefeated world champion. What stands out with Lee once on the mat is her constant submission attack as she has unofficially attempted 24 submissions in her nine fights. Lee has finished six of her fights by submission and she hasn't shied away from attacking off her back or going for the much more tougher submissions to finish by like a twister which she has finished with.


She is also just so active on the mat always pursuing the submission, landing excellent ground and pound, and her position grappling is outstanding. She's always working and when she catches herself in bad positions her grappling IQ on how to escape or produce her own offense is fantastic.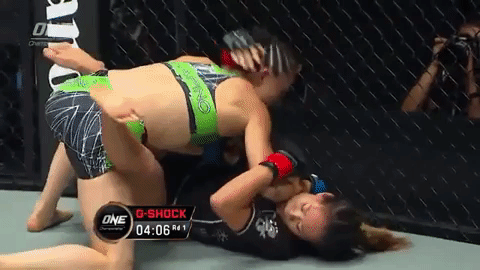 Lee has undoubtedly been unstoppable and at only 22-years-old is just mind-blowing.
How to possibly beat Angela Lee?
Lee has been dropped and she has been put on her back but it will take a top-notch fighter to hand Lee her first defeat. Lee is capable of getting taken down but improving position and trying to pass guard would be a huge mistake as Lee is able to capitalize on mistakes and use submissions and score points or use it to sweep. If your a grappler who relies on position control then you could maybe control Lee. The biggest key to victory against Lee would be to keep the fight standing and on the feet, Lee isn't bad at all as she's actually solid but defensively she does have openings. Lee's footwork is solid but her head movement is stationary so someone who will utilize their jab will have success in the fight as it progresses. Stop the footwork of Lee quickly with attacking the leg kicks and once you have her stationary don't be afraid to let your hands go and trade with her but just don't allow her to close the distance.
Lerone Murphy


Featherweight | 6-0 | Combined Opponents Record:  30-68-1 |
Manchester, UK | 5'10″ | 27-years-old
Against Fouda: Fast, glancing head kick, slipped to the mat briefly, good explosions, knee-right hook buckling Fouda, flashy kicks (hook, wheel), buckling knee, chopping leg kick, excellent closing to the round landing knees and punches while slipping in and out. Round 2. Hands kinda low moving backwards, solid TDD, powerful kicks low and high, dropped Fouda with a leg kick, excellent TDD, big leg kick buckling Fouda. 3rd round. No combinations, double leg takedown.
Against Tyler:
Against Lee: Head kick drops Lee, brief takedown from Lee, good TDD, chopping leg kicks, 2 right hands hurt Lee and Murphy closed the fight with shots to the body and the head sending him to the mat.
Against Nathan: Side kick to the liver put Nathan on his ass, brief takedown from Nathan, pushed Nathan to the mat, punch to the liver to end the fight.
Against Terry: Solid footwork, missed on the right to come up with a left hook on the chin knocking Terry out cold.
Against McErlean: Chopping leg kicks from McErlean, good explosions from Murphy, nice flow of stikes and kicks, spinning elbow wobbled McErlean, good TDD, good exchanges with their hands. 2nd round. Spinning elbow, flush flying switch knee, straight left, good TDD, good flurry from McErlean, 3 brief body lock takedown from Murphy, uppercut dropped McErlean at the bell. 3rd round. Flurry from McErlean, body kick from Murphy, double leg takedown, right hand wobbled McErlean.
Unlike Angela Lee, Murphy is still at an unknown status and untested prospect coming up. Murphy is only 6-0 and has fought for the lower tier promotions but with a high ceiling, a promotion like Bamma or Cage Warriors should really take a look at the 27-year-old. Murphy has taken the fight to the mat a couple times but overall hasn't shown much offense on the mat but he has the tools to take the fight down. On the feet is where "The Miracle" wants to be and he has done a great job staying upright with solid takedown defense for the most part. Murphy has relied a lot on his explosiveness and speed as he has very good footwork and really moving in and out well. He's really improved at throwing more combinations where he is very dangerous in exchanges with heavy hands.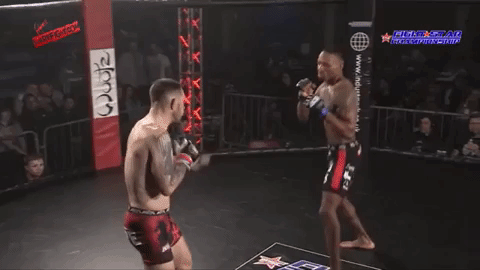 On the outside, as I said he is explosive and he does have some powerful kicks he throws especially to the liver and to the legs.


He's still improving on throwing more as he can be too patient but with his athleticism and his flow of output, he can really be a serious threat.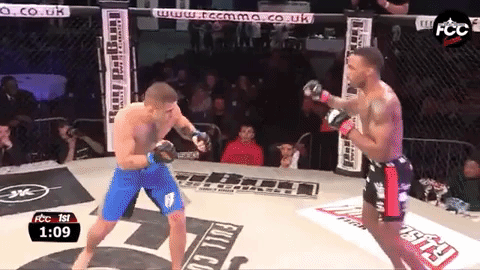 How to possibly beat Lerone Murphy?
Murphy hasn't fought good competition but he's a much different fighter from his first pro fight. Murphy has been taking down before but he's always popped back up but again it was against weaker competition so that is a for sure round to go for. Murphy is good a range but when pressured he tends to drop his hands and when he's taking shots he curls up so that's a big issue as well.