The Undefeated Vol. 7: Krzysztof Gutowski and Sergiu Spivac
There are currently 42 undefeated fighters on the UFC roster that includes…
Martin Buschkamp (10-0), Azamat Murzakanov (7-0), Alonzo Menifield (7-0), Anthony Hernandez (7-0), Antonina Shevchenko (6-0), Maycee Barber (6-0), Bevon Lewis (6-0), Edmen Shahbazyan (7-0), Jim Crute (8-0), Tai Tuivasa (8-0), Dmitry Sosnovskiy (11-0), Jordan Johnson (10-0), Dominick Reyes (9-0), Paulo Costa (14-0), Trevin Giles (11-0), Alexey Kunchenko (19-0), Israel Adesanya (15-0), Claudio Silva (12-0), Khabib Nurmagomedov (27-0), Gregor Gillespie (12-0), John Gunther (5-0), Michael Trizano (7-0), Brad Katona (7-0), Sean O'Malley (10-0), Benito Lopez (9-0), Manny Bermudez (13-0), Deiveson Figueiredo (15-0), Ketlen Vieira (10-0), Aspen Ladd (7-0), Lauren Mueller (5-0), Aleksandra Albu (3-0), Tatiana Suarez (7-0), Nadia Kassem (5-0), Mackenzie Dern (7-0), Sarah Frota (9-0), Mayra Bueno Silva (6-0), Marina Rodriguez (9-0-1), Taila Santos (15-0), Sergey Pavlovich (12-0), Alex Gorgees (7-0), Ben Askren (18-0), and Sergio Giglio (12-0).
Krzysztof Gutowski


Featherweight | 6-0 | Combined Opponents Record:  15-6 |
Warsaw, Poland | 5'9″ | 31-years-old
The Polish native has an undefeated record at 6-0 with a 100% rate never seeing the third round. All of Gutowski's fights have been finished in the results of his stand-up. He is one-dimensional never shooting for a takedown in his career as he is solely a Muay Thai fighter. Gutowski at the range does throw good leg kicks as he really doesn't throw them nearly enough as he's more worried to close the distance. The Polish does have good muay thai as his knees and elbows are lethal.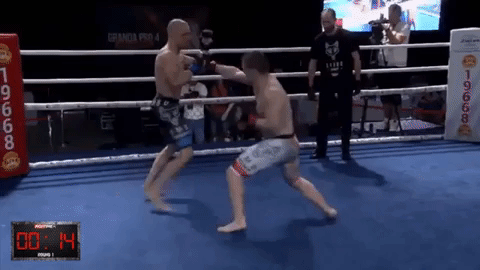 From range, he could be a lot better but he is still dangerous especially with his head kick where he has won two fight via a head kick.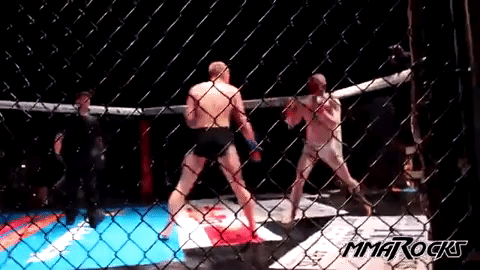 What does is take to beat Krzysztof Gutowski?
Outside of the clinch, Gutowski has a lot of flaws a fighter can exploit. On the feet, he is explosive and has a quick release but he lacks combinations only throwing single shots. He also overextends his punches leaving himself open to counters and by no means he has an iron chin. He's got very good ground and pound but he has little wrestling. Gutowski has shown decent get-up ability but his takedown defense is a big problem.
Sergiu Spivak

Heavyweight | 9-0 | Combined Opponents Record:  356-123-10 |
Kiev, Ukraine | 6'3″ | 23-years-old
Spivak is a promising 23-year-old out of Ukraine in the heavyweight division. "Polar Bear" is a strong physical guy who will bully his way into the clinch. Primarily, Spivak is a fighter who wants to get the takedown. He's shown the ability to get single legs but is really effective with his outside trip.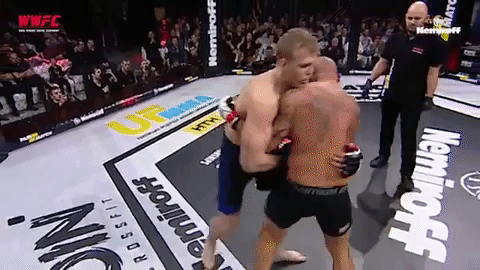 For a bigger guy, Spivak moved well on the mat improving to better positions and can attack with a variety of submissions. The ground and pound would be his best weapon where the Ukraine native actively rains down on his foes.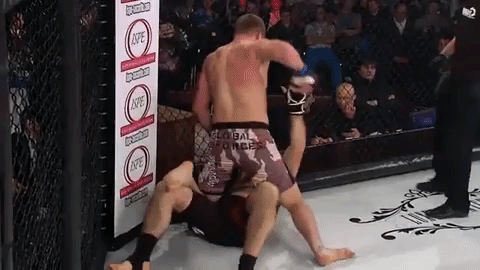 On the feet, he shows flashes on the outside with head kicks but can never land flush enough to cause real damage. He thrives in the clinch where he can control the posture and unload with short shots including knees.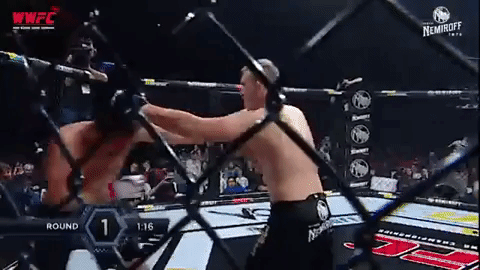 What does it take it to beat Sergey Spivac?
Spivak has exceeded with bullying his opponents around and beating the up in close quarters. Once Spivak reaches a higher level he will fight much bigger and stronger guys compared to the ones he fought on the regional scene. At range he doesn't have anything to offer as he lacks movement, checking leg kicks, and output. Spivak has potential for sure but he's gonna have to have better striking.