Welcome to the UFC: Bharat Khandare and Pingyuan Liu
With the UFC heading to mainland China later this year, they would yet again bring in two more newcomers to the event. With these two newcomers, nine fighters are now making their official debut in the UFC. The UFC officially announced the bout and signings of both Bharat Khandare (5-2 MMA, 0-0 UFC) and Pingyuan Liu (12-4 MMA, 0-0 UFC), who will debut at UFC Fight Night: Shanghai on November 25, 2017.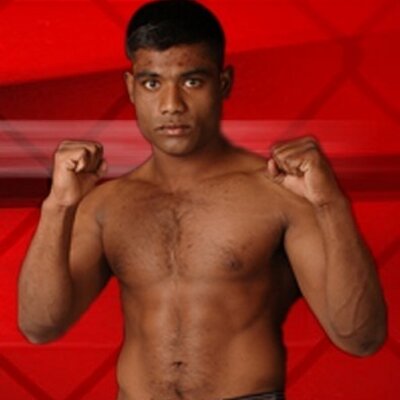 Bharat Khandare
"Daring"
5'7″
Bantamweight
28-years-old
From Bhagur, Maharashtra, India
Trains out of Superhuman Gym
5-2
3 Submissions (2 Rear-Naked-Chokes, 1 Guillotine)
2 TKOs
How I think Bharat Khandare does in the UFC:
Khandare seems like an odd signing to the UFC as he is coming off a loss and hasn't won a fight since 2013. Khandare was contacted by the UFC nearly 3 years ago but the deal didn't pan out. Khandare has some kind of background in wrestling as you can see as that's transitioned into his MMA career. Khandare is a bit one-dimensional as he does have some skills in kickboxing but his main focus is to get on the inside and slam his opponent to the mat. Khandare shouldn't have been signed at the moment, he is still very green and his last fight was the first fight in three years so he needs way more experience.
Pingyuan Liu
5'8″
Bantamweight
From Henan, China
Trains out of Enbo Gedou
12-4
5 Submissions (4 Armbars, 1 Inverted-Triangle)
3 TKOs
How I see Pingyuan Liu doing in the UFC:
I wasn't too impressed at all with what I've seen from Liu. Liu has some power in his hands and has a pretty good double-leg takedown, but that's all I can really say. I really noticed the awful takedown defense from Liu and even though he is decent off his back, he will get eaten alive in even the lower tier of the UFC. I really don't expect much from this guy at all.
How I see Bharat Khandare and Pingyuan Liu matching up:
This is a fight that should not take place in the UFC as you can see this match-up in the lower section of a ONE FC event. I think Khandare can utilize his wrestling and put Liu on his back as Liu has very poor takedown defense. I was more impressed with Khandare's wrestling then I was a bit impressed with anything Liu does.
Watch these two square off November 25 at the Mercedes-Benz Arena in Shanghai, China for UFC Fight Night 122 — UFC Shanghai. The card is headlined by the #2-ranked middleweight Michael Bisping taking on the young and hungry #8-ranked Kelvin Gastelum.
Follow @MMATodayNews on Twitter and check out MMA Today's Website for the latest in the world of Mixed Martial Arts.