WMMA Fights to Keep An Eye on This Weekend: A Dominant Prospect Returns
A trio of Strawweight bouts highlight this weekend's action
The women's MMA landscape just recently got flipped on it's head thanks to new UFC Strawweight champion, "Thug" Rose Namajunas who knocked out the reigning queen of 115, Joanna Jedrzejczyk at UFC 217. The division can now breathe a breath of fresh air as there's a new fighter with a target on their back.
Following up on the upset and looking to make immediate impressions will be four talented UFC 115 pounders. One of a which being a former Invicta FC champion and the other being a season winner of The Ultimate Fighter.
Outside of the UFC, we have a co-main event fight between two young competitors looking to make an impact and hopefully put themselves on the UFC's radar.
UFC Fight Night 120 – Sat, Nov 11
Background
July 8, 2016, marks the date of the last time we saw Tatiana Suarez inside the octagon. This was also her UFC debut…and the finals for The Ultimate Fighter season 23. She took on Amanda Cooper whom she defeated by way of first-round d'arce choke submission.
Suarez showed incredible promise after dominating the TUF 23 tournament with her wrestling dominance and submission skills. No one had an answer for her and with her background, it was safe to say she was already one of the best wrestlers in the division and would one day be a future contender.
Being out for so long wasn't the plan at all for the 26-year-old Covina, California native, who was scheduled to take on veteran Strawweight, Juliana Lima at UFC Fight Night 102 last December. But Suarez suffered a serious injury that forced her out of action until now.
Her opponent, Viviane Pereira wasn't even in the UFC when Suarez debuted yet she already has two victories in the promotion to her name. One over former title challenger, Valerie Letourneau and the other against one of Suarez's fellow TUF 23 contestants, Jamie Moyle.
Why You Should Watch
Somebodies 0 has got to go! Who doesn't like a battle between two up and comers with no losses on their records? Suarez's return is interesting alone and whether or not she will be rusty could cause her problems against the more experienced Pereira. Suarez' style favors her but having fought better competition could be very useful for Pereira.
Each fighter is on the cusp of being in the Strawweight division's stacked top 15 and as a matter of fact, they both have been in it before but fell out despite not losing which just shows how stacked it actually is. It's even more so now that Jedrzejczyk has fallen, thus giving fighters extra hunger to climb their way to the top. Suarez and Pereira both being two of them.
Strawweight – 115 lbs: Angela Hill (7-3) vs Nina Ansaroff (7-5)
Background
Wow. It's hard to believe that Angela Hill isn't ranked in the UFC's rankings. That's just… *exhales* Calm down…people know that the UFC rankings are bad… I haven't been shy about saying it myself…
As I was saying during the last matchup, Strawweight is more stacked than people may realize (obviously, since Hill isn't ranked). But Angela Hill is a top 10 fighter in the division. Plain and simple.
Hill entered the UFC with a 1-0 record after coming off of season 20 of The Ultimate Fighter. Hill lost her first and only bout on TUF 20 to future UFC champion and former Invicta champion, Carla Esparza. After earning a win in her debut over fellow TUF 20 competitor, Emily Kagan, Hill would essentially be fed to top contenders, Tecia Torres and Rose Namajunas who both defeated her which led to her departure from the UFC.
I say "fed" to them because Hill was still fairly green and inexperienced at the time which is fair to say. After she left the UFC, she went to Invicta and rattled off four straight very impressive victories with one of which being over worldwide top 10 ranked fighter and Invicta FC champion at the time, Livia Renata Souza.
After seeing the obvious improvement, Hill got called back up to the UFC to take on Jessica Andrade. Hill would lose to Andrade in a crazy fight that some claimed as one of the most exciting female fights of all time. There was no shame in that loss as we all know and have seen what a beast Andrade is. Hill would go on to defeat Ashley Yoder following the loss which brings us to now.
Nina Ansaroff is most commonly known for being the girlfriend of current UFC Bantamweight champion, Amanda Nunes. But many don't know that she's quite the fighter herself. Or maybe they do know since Nunes has openly touted her as the next Strawweight champion…time will tell.
Ansaroff is 1-2 in the UFC and should arguably be 2-1 after a controversial decision loss to Justine Kish. Not really getting the opportunity to shine, Ansaroff had her UFC debut on a main card but it was a loss in a sort of "too much too soon" type of matchup with Juliana Lima. Follow that with the questionable loss to Kish on the prelims of UFC 195 and she gets bumped down as far as you can go, onto the Fight Pass prelims.
And of course, that's where Ansaroff shined her brightest. Ansaroff absolutely dominated her opposition in Jocelyn Jones-Lybarger with superior top control and striking, outstriking her 89-33 on route to a submission victory in round three.
Why You Should Watch
Angela Hill is one of the very best in the world whether the UFC wants to admit it or not. This is the biggest fight of Ansaroff's career and a win here will be huge for her. Maybe not as huge as it should be since the UFC doesn't acknowledge Hill's talent, but the fighters within the division know and it will be a big confidence booster and momentum builder if Ansaroff can defeat a former champion.
Neither fighter is often in boring fights either so this one should surely deliver as they both look to get closer to the top of the newly opened up Strawweight division.
Combate Americas: Copa Combate – Sat, Nov 11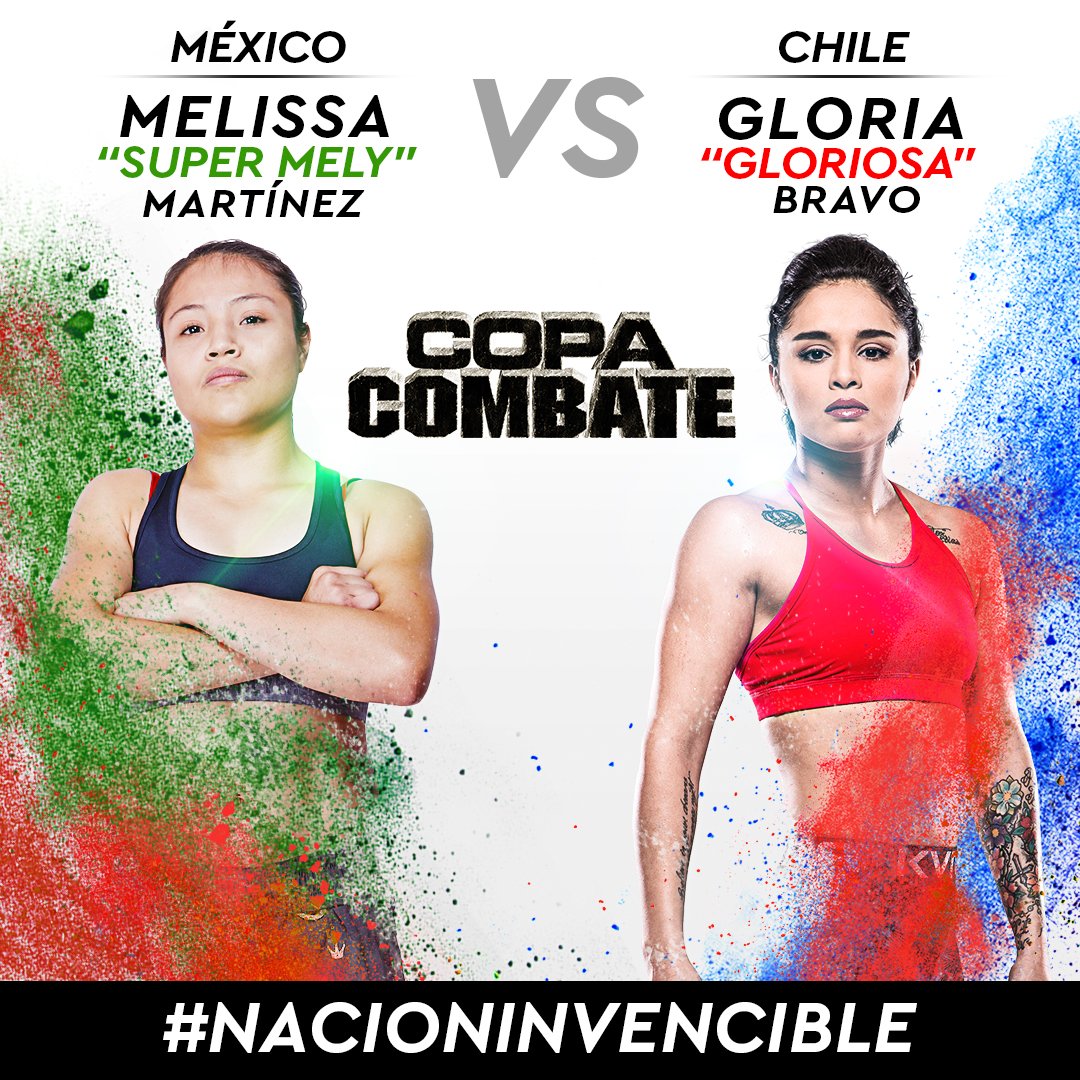 Strawweight – 115 lbs: Melissa Martinez (2-0) vs Gloria Bravo (4-2)
Background
It's safe to call this fight your typical "striker vs. grappler" fight as Melissa Martinez' has both of her victories coming by way of KO/TKO. Her last being a highlight reel head kick win over Yajaira Romo.
On the other side of the spectrum, you have Gloria Bravo who has all four of her wins coming by way of armbar. Only one of which came after the first round.
Why You Should Watch
Each fighter is being given their chance to shine in this one with the co-main event card placement. An impressive performance for either could easily give them that extra push they need to get themselves on to the UFC's radar if they aren't already. If there is one thing we know for sure, it's that Dana White loves finishes. Both ladies have only done that in their wins and there's no reason to think we won't be getting another one here.
Top Pick: Hill vs Ansaroff
Hill has more to prove, Ansaroff has more to gain. Both fighters have had limited to no distractions as of late and will come into this fight well prepared which will give us a true treat to kick things off on the televised portion of UFC Fight Night 120. It's an overall fantastic card for free TV, and you shouldn't sleep on the ladies to potentially steal the show.
Feel free to share your thoughts in the comments below and follow me on Twitter: @Dre_Kriggs
Follow @MMATodayNews on Twitter and check out MMA Today's website for the latest in the world of mixed martial arts.