WMMA Fights To Watch: A Title Shot Within Grasp
One of the best fights of the month overall takes place this Saturday
For those dying for some super-exciting matchups in WMMA, then be prepared because this weekend will deliver. Even with some shifts that occurred, moving bouts around and mixing things up, we've still ended up with a great fight between veterans, a strikers delight, then what's sure to be a whirlwind of action while it lasts. Of all the weeks to miss…this won't be one of them! Let's see what's on tap.
UFC on Fox 28 – Saturday, February 24, 2018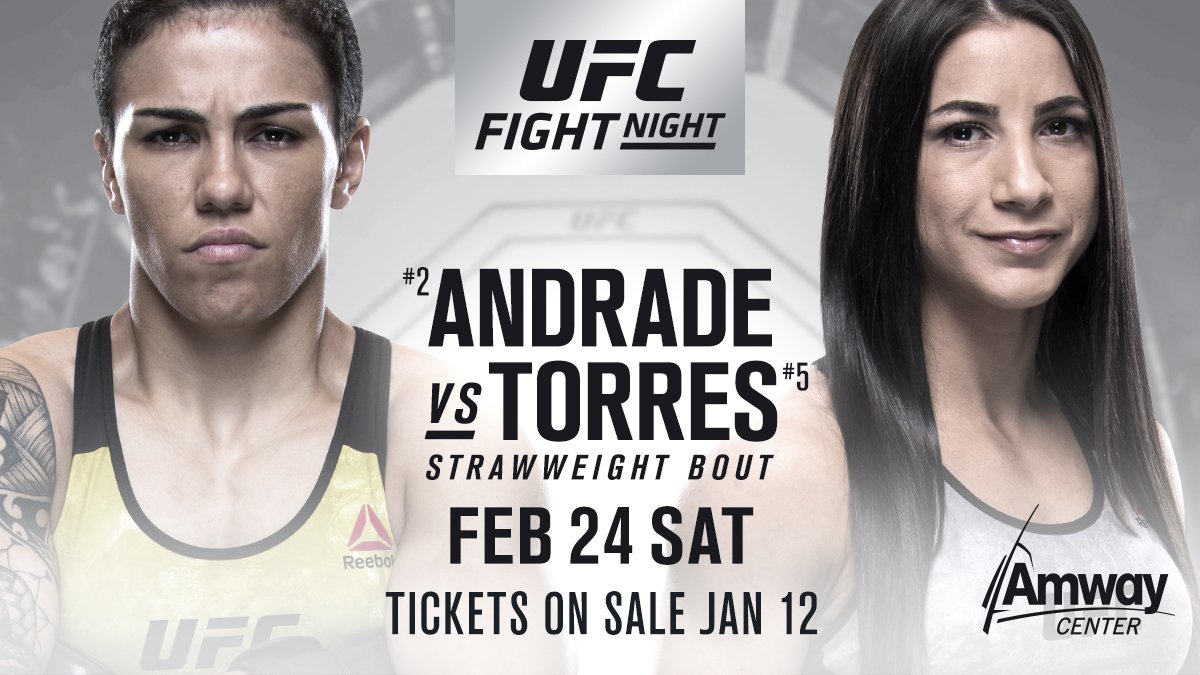 Strawweight – 115 lbs: Jessica Andrade (17-6 MMA, 8-4 UFC) vs. Tecia Torres (10-1 MMA, 6-1 UFC)
Background
Since losing for the first and only time in her professional career to current UFC Strawweight Champion, Rose Namajunas, Torres has rattled off three-straight dominant victories over the likes of Bec Rawlings, Juliana Lima and Michelle Waterson. She's firmly been ranked in the division's top 5-7 since her entrance into the UFC after season 20 of The Ultimate Fighter.
Rumors were afloat that Torres was potentially going to be getting the first crack at new champion, Namajunas' title. Torres is actually 1-1 with the champion and despite the loss to her three fights ago, it was very closely-contested as Namajunas only won by split-decision.
Even though Andrade is entering this fight with a smaller win-streak than Torres, she may still be coming in with more momentum.
At UFC Saitama, Andrade completely dominated the perennial top contender, Claudia Gadelha on route to a unanimous decision. This result came as such a surprise just because of how easy Andrade made it look when Gadelha was usually the one defeating people in this fashion. The win put Andrade's strawweight record at 4-1 with her only loss coming to former champion, Joanna Jedrzejczyk.
Why You Should Watch
This has all the potential to be a fantastic fight or a similarly-shocking dominant performance for Andrade similar to how she handled Gadelha. But the chances of something like that happening to Torres should be a lot lower for her than they were for Gadelha.
Torres is a very speedy and incredibly technical striker; the exact opposite of Gadelha. So it will be a safe bet to expect Torres searching for shots from the outside while trying to move and hit angles as the bulldozer that is Andrade applies her relentless pressure. And for those who haven't seen her fight before, Torres is relentless. The woman does not stop. It's very similar to that of Khabib Nurmagomedov.
The winner of this fight is practically guaranteed a title fight barring any controversy in the title rematch at UFC 223 between Namajunas and Jedrzejczyk. Andrade is the #2-ranked contender while Torres would take that spot with a win and put herself on a four-fight winning streak. The fight is also taking up the co-main event slot as well which gives the ladies even extra exposure.
Bantamweight – 135 lbs: Sara McMann (11-4 MMA, 5-4 UFC) vs. Marion Reneau (8-3-1 MMA, 4-2-1 UFC)
Background
Originally, this fight was supposed to be the former title challenger, Sara McMann taking on the Invicta FC Bantamweight Champion, Yana Kunitskaya in her UFC debut. That was until Marion Reneau lost her opponent, Kunitskaya's predecessor, Tonya Evinger to an injury. Her fight was supposed to take place last Sunday at UFC Austin but McMann jumped and filled in for Evinger as they bumped the date back a week for Reneau. Kunitskaya, on the other hand, ended up getting herself a featherweight UFC title shot at UFC 222 to kick off her UFC career.
Why You Should Watch
McMann and Reneau are true veterans in the 135-pound weight class which might not be saying a whole lot nowadays as the division has thinned out substantially since the flyweight division's arrival. But that's not to say that this isn't a very fun fight between two good fighters.
McMann was on a hot three-fight win streak before her last fight where she was upset by the young contender, Ketlen Vieira. McMann will absolutely be wanting to get that fight back and get in the win column again and this matchup with Reneau could be just that.
But for Reneau, she has much more to gain. McMann has been a perennial top 10 fighter since the UFC brought the women in and her losses prior to her last have literally only come to champions. Reneau can be very dangerous from her back and when hurt which is a big factor considering that McMann is a wrestler with huge power in her hands. Each fighter loves to go for the finish and continue to improve despite being two of the older fighters in the division.
Strawweight – 115 lbs: Angela Hill (7-4 MMA, 2-4 UFC) vs. Maryna Moroz (8-2 MMA, 3-2 UFC)
Background
Ukraine's Moroz has only lost twice inside the cage and was sneakily climbing her way through the ranks until stifled by Carla Esparza in her last outing. When meeting Angela Hill, both will be looking to rebound.
Hill was the former Invicta FC Strawweight Champion and since returning to the octagon has gone 1-2 with her most recent loss being in an upset to Nina Ansaroff after she defeated Ashley Yoder in July.
Why You Should Watch
Both fighters have great confidence in their stand-up skills and rightfully so. In particular with the former kickboxing champion, Hill makes it evident each time out what her gameplan will be and that's to throw down. Moroz is generally much more patient and sometimes to her detriment which will make it interesting to see how and if she can adapt. She has also shown that she has some fairly impressive submission skills but we haven't really seen them since her UFC debut against Joanne Calderwood in 2015.
A win for each fighter will be huge as it inches them closer back to their spot in the top 10.
Deep 82 – Saturday, February 24, 2018
Flyweight – 125 lbs: Rin Nakai (19-2-1) vs. Young Ji Kim (1-2)
Background
Since cult sensation, Rin Nakai has left the UFC and dropped to 125lbs. after losing to Leslie Smith and former champion, Miesha Tate, she has gone unbeaten with three-straight victories all by way of finish (two TKOs, one submission).
Standing across from Nakai will be Young Ji Kim who will make for Nakai's fourth straight inexperienced opponent in comparison to herself.
Kim is 1-2 professionally and was 1-2 as an amateur. What she will have an advantage over Nakai in is size as she's been fighting upward of 135lbs. Regardless, it doesn't change that Nakai's recent opposition hasn't been the most challenging. Her four post-UFC opponents have a combined record of 12-7 and six of those coming from one fighter.
Why You Should Watch
It's a bit difficult to give a reason to watch this one other than if you really like squash matches which is what Nakai matchups have been lately. She's a talented fighter at 125lbs. but it's hard to determine how talented when she isn't fighting anyone too valuable. So bottom line, the reason to watch is this: it's a fight featuring a seasoned fighter trying to earn her way back into the UFC.
Top Pick: Andrade vs. Torres
Surprised? The implications in this fight are pretty much everything. Aside from that, it's just a fun fight between two very hungry fighters and that's always something you want in a good fight. If this one doesn't get some very positive crowd reactions, many will be shocked.
Feel free to share your thoughts in the comments below and follow me on Twitter: @Dre_Kriggs
Follow @MMATodayNews on Twitter and check out the rest of the MMA Today website for the latest in the world of Mixed Martial Arts